Diesel Exhaust Extraction & Removal Systems
This category encompasses vehicles powered by diesel fuel. Including cars, light trucks and SUVs, but primarily large 18-wheelers with larger vertical tailpipe stacks.
Available Systems
---
Fume-A-Vent's Overhead Diesel Exhaust Removal Systems are user-friendly and cost-effective solutions for facilities with diesel vehicles, like fire stations and service bays. When installing, you can use multiple combinations of hoses, pulleys, cables, and arm combinations to create the optimal system for your space.
Our overhead diesel exhaust removal systems hang down from the ceiling and connect directly to ductwork to remove chemicals from the building. Whether you're looking for a complete diesel exhaust removal system, or parts for an existing system, we have a few different options. Below find more information about each type of removal system and other accessories.
The Basic Parts of Our Diesel Exhaust Removal Systems
There are three main components to every diesel exhaust removal system, including the hose, pulleys, and cable balancers. Even though all exhaust removal systems can be modified to fit your space, these three main components are always used. If you're interested in ordering a diesel exhaust system, then each come with the following:
1. Diesel Exhaust Removal Hose: Ranging from high-temperature silicone to medium-temperature polyester, our hoses safely remove diesel exhaust fumes into a ventilation system.
2. Ropes, Pulleys, and Cable Balancers: In order to lift the hose without damaging the tubing, you'll need a series of ropes, pulleys, and cable balancers. These make sure that diesel exhaust fumes don't get trapped in the hose, while making it easy to move the overhanging hoses around the building and attach them to a new vehicle.
3. Direct Mount Fan: Once you've captured the diesel exhaust from the vehicle or truck you're working on, you'll need some way of moving it outdoors. The third main component of a diesel removal system is a direct-mount fan that filters the exhaust outdoors. You can also connect this removal system to ductwork or a central fan to effectively take out the exhaust fumes.
Simple-Drop Overhead Exhaust Removal System
We put these three components into something we like to call a simple drop, which is the most common type of overhead diesel exhaust removal system. We'll make sure our diesel exhaust removal systems are effective by: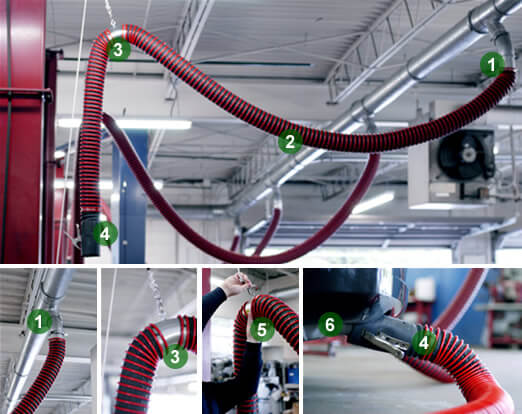 Simple Drop Explained
1. Connecting directly to a central ventilation or duct system.
2. Customizing the hose length to best fit in your space.
3. Fitting nozzle sizes to the cars or trucks with which you work.
4. Setting up pulleys so you can move the hose on a daily basis.
5. Installing an elbow joint so you can store the hose out of way when not in use

---
Diesel Exhaust Removal Accessories
Along with complete diesel exhaust removal systems, we also carry many accessories that will make your system function well. Whether you're looking for a replacement or upgrading parts of an old system, you'll be happy to hear that we carry hose reels, ropes and pulleys, and extractor arms that can improve your existing system.
Diesel Exhaust Hose Reels
Our diesel exhaust hose reels offer a clean, user friendly solution for removing harmful exhaust fumes from service bays. Standard options include motor operated or manual spring retraction. Each reel is either equipped with a direct mount fan or numerous reels ducted to a centralized exhaust fan to remove the fumes from your space. If you're not sure whether you need a manual or motorized hose reel, read below or contact us for more information.
1.Manual Spring Operated Hose Reel: These reels work best in applications where the vehicle exhaust hose reel is within reaching distance of the operator. Simply pull down the hose to the desired length and attach the exhaust nozzle to the tailpipe. When finished, the hose easily retracts back into the reel and is out of the way of people working on the vehicle.
2.Motorized Hose Reel: Motorized hose reels are preferred when vehicle exhaust hose reels are beyond the reach of the operator or when a large diameter hose is required and cannot be retrieved by manual spring retraction.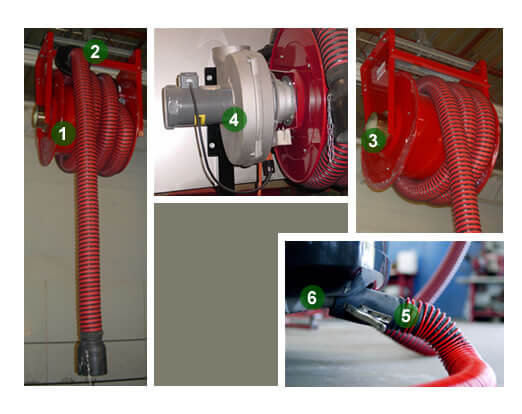 Benefits of a Vehicle Exhaust Hose Reel System
Manual and motorized hose reels are helpful when creating a successfully functioning diesel exhaust removal system. Here are 4 different ways that a hose reel can benefit your space:
1. Automatic and spring loaded reel systems make them easy to coil.
2. The diesel exhaust hose easily extends, making it easier for the nozzle to attach to the exhaust source.
3. They can be connected directly to a mount blower or centralized ducting system.
4. A drum stores the diesel exhaust hose overhead, out of the way of your work.
Each reel is wired to a control panel that hangs directly underneath. Various auto starters, CO2 detectors and custom control panels help simplify any complicated application. This is a great option for service bays that need sophisticated diesel exhaust removal systems for multiple vehicles.
---
Fume Extractor Arms
The other accessory you'll find on Fume-A-Vent is a fume extractor arm. These work well for shops with overhead cranes or high ceilings that prevent the use of overhead exhaust extraction systems. The system stores tightly against the wall when not in use, and swings out over or between bays when needed.
Fume extractor arm systems are flexible, so they can move to the location of the vehicle your team is working on, and the drop-down functionality makes them easy to use with vertical diesel exhaust pipes. Fume extractor arms come in two different styles, depending on the application.
1. Pivoting Fume Extractor Arms: This fume extraction arm is available in various sizes, including 7', 10', or 13' lengths.
2. Pivoting & Articulating Fume Extractor Arm: This system allows the arm to swivel, fold, and create a scissor effect at the center joint. The BAA is available in 10', 15', and 20' lengths.

If you want to store the extractor arm when not in use, you can combine this with a pulley or cable system.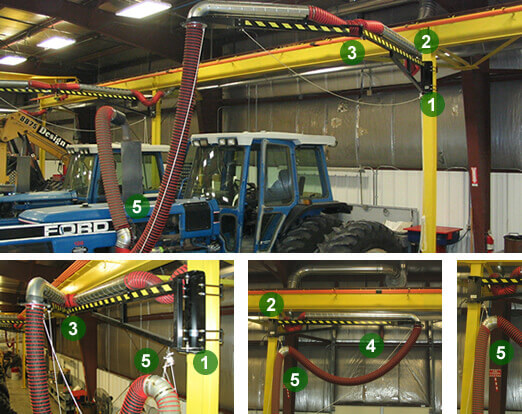 Benefits of a Fume Extractor Arm
If you have a large indoor facility and need a flexible, storable solution to diesel fume removal, then a fume extractor arm has several benefits. The benefits include:
1. Vehicle fume extractor arms are mounted and braced to a beam to keep the hose reel up and out of the way, which makes them a great option for buildings with high ceilings or overhead cranes.
2. All fume extractor arms swivel at the base, allowing them to tuck against the wall for out-of-the-way storage.
3. Advanced options, like the pivoting and articulating fume extractor arm, are available if you could use extra flexibility and more space.
4. You can use this alongside other fume extractor accessories, like a rope and pulley system or an elbow, for more benefits.